Montauriol, a village in Lot-et-Garonne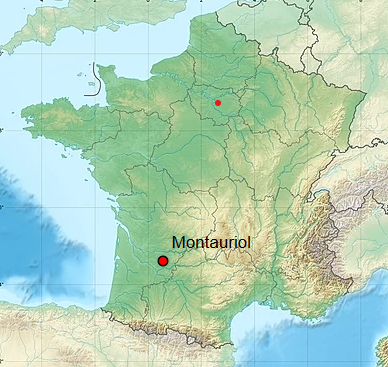 Located in the north tip of Lot-et-Garonne, in the valley of river Dropt, the village of Montauriol and its territory has an area of 9.92 square Kilometers . A stream named la Douyne flows across it and feeds river Dropt .
The lowest spot bearing an altitude of 74 meters above sea level can be found at the north end of the territory near a place named Lassagne where the stream la Douyne exits the territory of Montauriol hence materializing the border with the neighbouring village of Douzains . The highest spot at 155 metres above sea level can be found at the wind mille named Lartigue on the border of national road nr. 21 .
The rural road Nr. 416 runs through the village centre . Montauriol is located 25 Kms North East and by North from the town of Villeneuve sur Lot and 27 Kms South East and by South from the town of Bergerac, in the Dordogne .
Montauriol is well connected to the national grid of main roads thanks to Route National 21 on its east border .